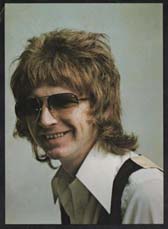 In his words from the fan club introductory pack of 1975:
Hello there, this is Ted (the good looking one).
I was born in Oldham Lancashire, England on September 2nd 1947.
I emigrated to Australia in 1966 and worked at many different jobs before settling in with the Department of Main Roads in NSW where I drove heavy machinery.
I'm 5' 10" (177.8 cm), blue eyes, ginger brown hair and because I've just had my cornflakes at the moment weigh 10 stone (63.5 kilo).
I first started playing guitar when I was 10 years old (6 years ago) and wrote my first song at 16 while on holiday in Kent, England.
I've played guitar for about 5 years professionally and two years ago (1973) changed over to bass after our bass player left abruptly. I still play guitar and piano at home but on stage only play bass.
My favourite colour is blue.
My favourite girls are females, in other words I like lots of different girls, Blondes, Brunettes, Browns, Redheads, even bald as long as they are female.
My hobbies are sleeping, staying out late and when I'm old enough, drinking!
Favourite music………Beatles, Free, Status Quo.
Favourite singers…….Paul Rodgers (Free/Bad Company), Rod Stewart, John Lennon, Ray Charles.
Favourite bassists…..Andy Fraser (Free), Tetsu Yamauchi (Faces) and most African American bass players…….oh and ME.
Favourite guitarists…Keith Richards (Stones), Paul Kossoff (Free) Joey Molland (Badfinger).
Favourite drummer…Simon Kirke (Free/Bad Company)
Favourite Car is a Rambler Hornet…..one guess why (He owned one at the time).
If only I was old enough to drink, I'd go out tonight.
Tarrah fer now.
The roots for TMG lie in the Sydney pop circles of the early 1970s. Ted gave up his job driving a road roller to become a cute cuddly crooner of beautiful ballads. He had a number of top twenty hits with songs like 'Julia', 'Memories', 'Marcia' and the top ten hit 'Falling In Love Again' and in November 1970 was the first Artist to represent Australia at the Tokyo International Song Festival (the Asian Eurovision)
Ted had proven himself as a consistent and prolific songwriter for himself and later TMG. He penned hits for Sherbet 'You're All Woman', Johnny Farnham 'It's Up To You', Alison MacCallum 'Take Me Back' and others including John Paul Young, Bullet, Hot Cottage and Mike Furber. His songs were covered by artists in New Zealand, South Africa and the UK.
However as Ted Mulry the ballad singer he never became the household name like that of Johnny Farnham, Jamie Redfern, Ronnie Burns or Russell Morris.
In time he realised that he needed a permanent backing band.
"It was impossible to continue as a solo act the way things were. I would be using one backing band in Melbourne and another one the following night in another state. So many things would go wrong, because most of them wouldn't be into what I would be doing, and there was always never any time for rehearsals. In Sydney I have the use of regular bands like Elmtree, Bullet, Afrika and Hot Cottage" he said.
At the same time Ted determined that he was fast outgrowing his balladeer stage.

In October 1971, he went to England for a promotional tour, under the name of Steve Ryder, selected for him by Blue Mountain records, during his time away he established that a revamped image and new music was needed.

On his return to Australia he continued to be backed by several bands including Velvet Underground who had backed Ted on occasions in the previous year. He had begun socialising with the Velvet boys at their home in Mona Vale on the Northern Beaches and since Malcolm Young had left that band, Ted began to play guitar at rehearsals and a bond developed so with the eventual break up of Velvet Underground, Ted joined Les and Herman along with former Hot Cottage bassist Steve Hart and together they initially worked as Velvet, but Here We Are, and as William Shakespeare once said "the rest is history".