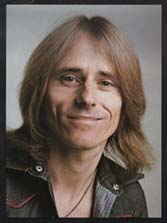 In his words from the fan club introductory pack of 1975:
Hi I'm Herman the drummer and I'll do my best to fill you in on my part in the group.
I was born in Graz, Austria, on May 15th. 1949 and my parents emigrated to Australia when I was really young.
I am 5'5 1/2" (166.4 cm) tall, the 1/2" being my platform socks.
My hair is mouse brown and I have blue/green eyes.
I was educated at Maitland Marist Brothers and have been playing drums since before I left school.
My first band in Newcastle was called Ouebbe (pronounced web).
Before the GANG, I was a foundation member and drummer of Velvet Underground, along with Les (our present, past and future guitarist) and Ron (our present, past and future roadie……..otherwise known as Ronnie Roadie).
My favourite drums are Ludwig (like Ringo) especially the kit I own.
In my spare time I like songwriting, recording and driving my car but not all at the same time.
I love listening to records (with both my ears).
My favourite groups are the Beatles, Free, Bad Company and Sherbet (my favourite Aussie group).
The Beatles were the biggest influence in my life…….along with Superman.
I like good simple fresh food and quiet homely type girls.
Oh and I simply love sleeping………
Goodnight
On stage Herman is known to be unpredictable as those of you who had seen the band live, during the 1970s, will attest.
He was the first to show his bare bottom on stage (albeit accidental) at the Myer Music Bowl in Melbourne which caused an uproar after the photo appeared on the front page of a National Newspaper.
He had also, starting in early 1975, been climbing the P.A stacks to ellicit audience response during the performance of 'Dinah'.
Like Ringo in the Beatles, Herman's appeal is somewhat different to the three guitarists out front but that was not detrimental to his personal following.
Herman was lucky enough to obtain the drum kit used by Simon Kirke after the conclusion of the Australian tour by Free, in 1971, as it was decided not to return it to the UK.
Herman is an absolute Beatles freak and has an amazing amount of memorabilia.
Since the early 1980s he has maintained a recording studio on the Northern Beaches which boasts the original mixing desk from Alberts on which many iconic Australian bands were recorded including AC/DC.
From the mid 1990s, many songs produced by Herman at Ramrod Studios gained special merit at the Tamworth Country Music awards, and during this time he also managed several young artists.
When TMG went into hiatus in 1986, Herman formed a side project 'True Stories' with whom he played rhythm guitar and vocals. That band recorded two singles and an Album and worked live a few days a week until 1992 and often being on the same bill as TMG in 1990 to 1992.
Herman continues to be a part of TMG since their reformation in 2016.