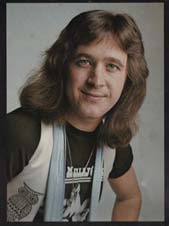 In his words from the fan club introductory pack of 1975:
This is Gary and I was born on July 4th. 1954.
I've got blue eyes, brown hair, weigh 9 stone 7 pounds (60.33kilo).
I am 5'8" tall (172.7 cms).
I began playing guitar about 8 years ago (1966) while I was at school.
I am right handed with everything I do.
I like to play sport as often as I can, squash and snooker particularly.
I also like to sketch and make models in my spare time.
I like to play my favourite records nice and loud when I get the chance.
I drink occasionally, usually beer, but Ted is trying to change that.
My favourite groups are Free, Bad Company, Yes and especially the Beatles.
Paul McCartney is my favourite Beatle and as a bass player rates tops, along with Chris Squire and Andy Fraser. If it wasn't for the Beatles I probably wouldn't have shown any interest in music at all.
I was in my first band, Crimson Rose, while still at High School and we played at the local school dance every now and then.
Then after that I played in an acoustic group with two other guys before I joined Fat Harry, whom I was with for roughly one and a half years. Before Fat Harry disbanded we were the support group for the GANG at Lidcombe Ukrainian Club.
The GANG were three piece at the time and really in need of a second guitarist, so I got the job which I thought was a really good piece of luck.
Finally I had found a band with great guys and good musicians.
I've got to say though that the day I went to their house in Dee Why and Ron answered the door, it was frightening, and I nearly turned around and went back home.
Happy to see you here.
Bye for now
The addition of Gary to the band added a lot of dimension to the sound.
Some of the dual guitar work on the Albums is exceptional and they were doing the dual lead guitar thing way before it became standard with hard rock bands in the 1980s.
Gary also contributed to lead vocals on many tracks and wrote or co-wrote songs with Ted.
During the hiatus from 1986, Gary had begun working with other bands and when TMG came back in 1989/90, Gary only did several shows with the band until rejoining them for the Gimme Ted Concert in March 2001.
Gary continues to work with TMG since 2016 as well as playing bass with The Bandits and guitar with the Bell